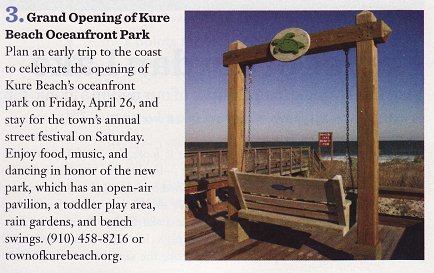 Wondering who made the bench swings featured in the April, 2012 issue of Our State Magazine?
RAGS Signs and Graphics designed and built the bench swings for the Kure Beach Oceanfront Park.  While RAGS is known for their sandblasted signs in the Wilmington, NC area, they also have a large collection of custom projects that show their fine artistic craftsmanship.
The bench swings, swing-back benches, signs and even the trash receptacles were designed by Ruth Arnold and built by her and the crew at RAGS.  They even designed and made the corian fish used for the park fundraising efforts!  The swings and benches are all built with the quality and attention to detail that Ruth and RAGS are known for, and will be a wonderful feature at the OceanFront Park for the enjoyment of generations to come.
Come on down to Kure Beach for the dedication of the OceanFront Park on Friday, April 26th and enjoy the view and the fresh salt air while relaxing on a bench swing.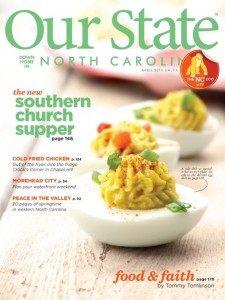 See the full article
5 Things every North Carolinan Should Do This Month
from the April, 2013 Our State Magazine